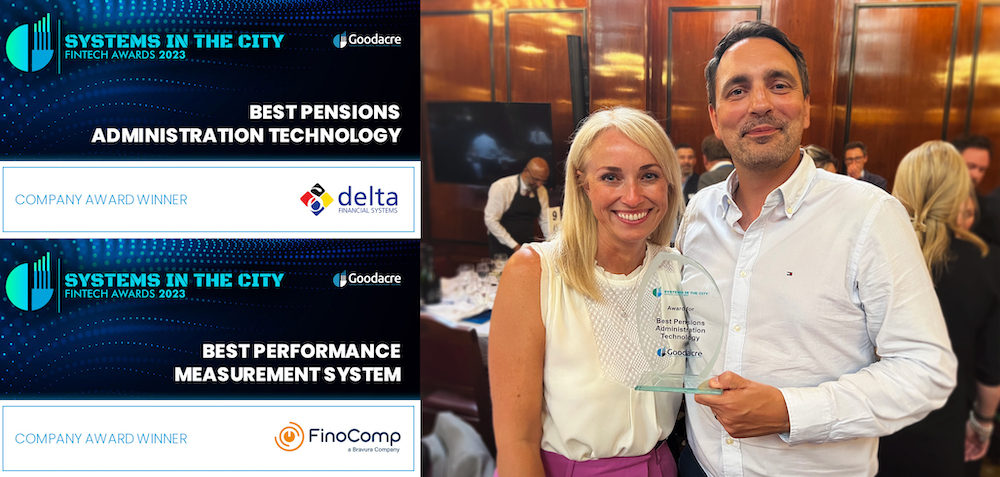 Bravura Group companies Delta Financial Systems and FinoComp secured memorable award wins at this year's Goodacre's Systems in the City Awards, with the tech providers taking home gold in the Best Pensions Administration Technology and Best Performance Measurement System categories, respectively.
Delta secured its trophy for the fourth time in five years, highlighting its industry-leading technology and second-to-none 27-year history in designing and deploying cutting-edge solutions for the highly regulated and complex pensions sector.
FinoComp brought home gold in the Best Performance Measurement System for its innovative microservice, Insight, which features powerful analytics combined with real-time data to help advisers dramatically improve client outcomes. Its highly accurate performance calculation methods can be used effectively at the individual position, portfolio or wrapper level, and is visible in one place with an easy-to-navigate user interface.
Billy Chalk, Managing Director, Delta Financial Systems, said: "To win four times out of five in such a highly competitive field is a terrific achievement for the team and one I'm incredibly proud of. Our award-winning team designs, builds and delivers industry-leading solutions to more than 30 UK-based pension providers, ranging from the largest banks and insurance companies to independent specialist and smaller niche providers. Ultimately, our technology is crucial to help manage the savings of more than 250,000 individuals, ensuring that they can achieve the best possible retirement outcomes.
"We're going from strength to strength as a business and we've got hugely exciting projects in the pipeline to help the industry improve its digital capabilities, underpinned by our strong market presence and commitment to future product investment."
Tim William, Business Development Director, FinoComp, said: "Microservices are increasingly becoming a key feature of leading adviser platforms and we're only seeing our market penetration and awareness increase as more businesses start to see the value they can bring to their organisation.
"We're delighted to see our Insight being recognised by our peers. It's a brilliant validation of the benefits of delivering timely and advanced information, with the flexibility to cater for different calculation methods, date ranges and currencies. It's the tool every adviser needs at their fingertips."
The Systems in the City Financial Technology Awards celebrates the leading systems and services in the regulated financial services sector. They are based on an independent and factual annual accreditation process, overseen by three independent judges.
-ENDS-
Contacts
Pippa Russell
Director, Russell Communications
T: +44 77409331230
E: [email protected]
More Insights