Bravura Solutions Limited (ASX:BVS) (Bravura): the leading financial software solutions company, is today delighted to announce that Simon Clare, Bravura Global Chief Technology Officer, has been presented with the individual award for "Product Knowledge Specialist" at the 2021 Goodacre Systems in the City Fintech Awards.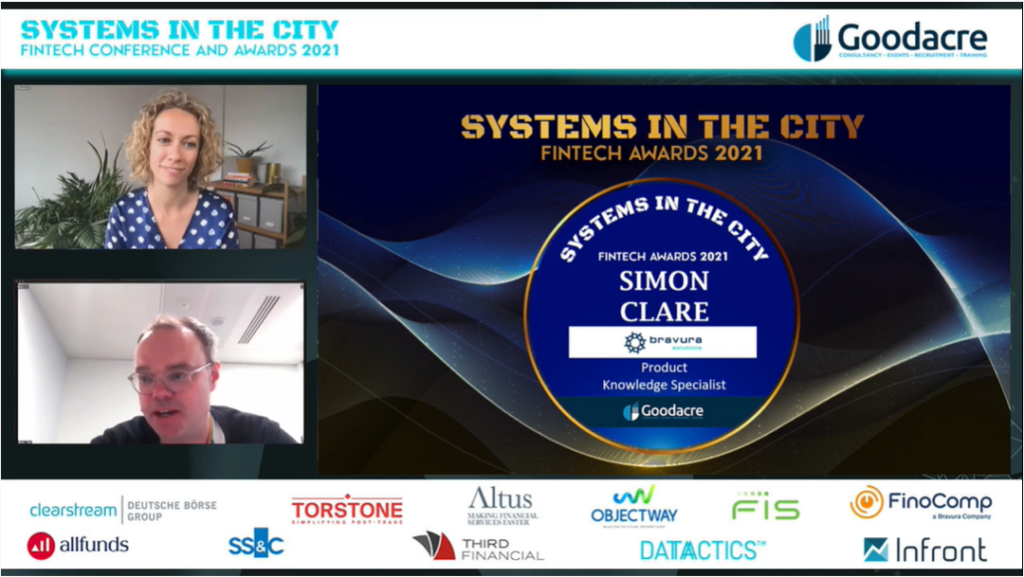 Celebrating the City's leading systems and service providers, these awards represent and recognise outstanding performance and innovation across the industry. Based on an independent and factual annual accreditation process, they are overseen by three independent judges and are seen as a benchmark of excellence for suppliers of services and systems to the regulated financial services sector.
With the conference chaired by Phil Bungey, COO of Embark Group, and the awards hosted by industry stalwart Gemma Godfrey, this iconic online event featured speakers from a line up of industry heavy weights including FinoComp's Business Development Director Tim Williams who presented on Transforming Wealth Management through the power of Microservices.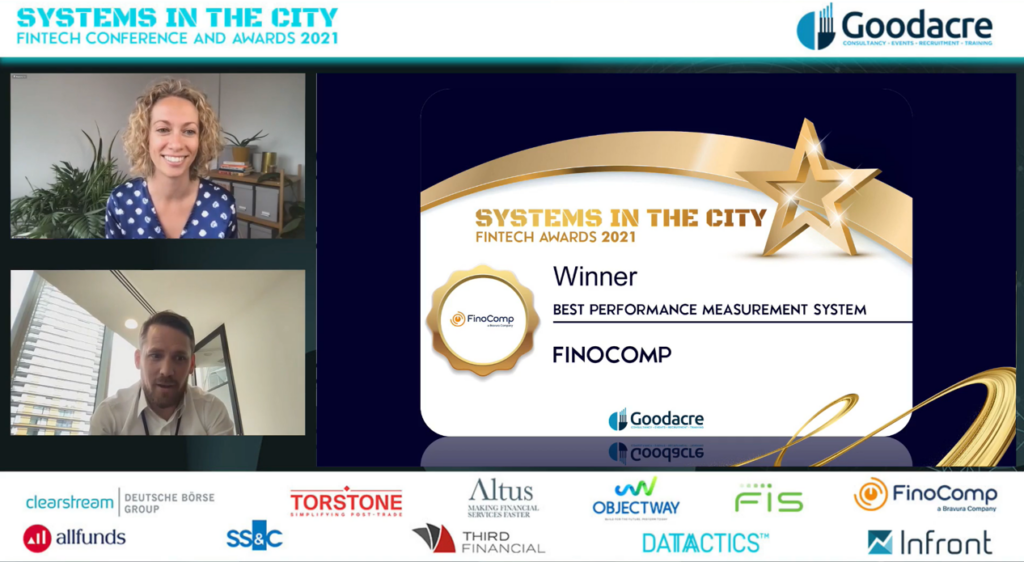 Simon Clare commented: "I am very honoured to have been awarded this accolade for product knowledge specialism from such a high profile and well regarded industry group. With increasing complexity surrounding client requirements and a changing regulatory landscape, flexibility and true innovation in product development has never been more mission critical. I am absolutely delighted to have been recognised in this category and would very much like to thank all my colleagues at Bravura as well as the judges and voters who took part."
Tony Klim, Chief Executive Officer and Managing Director, commented: "We are also immensely proud to be supporting the Systems in the City Fintech conference and awards event with sponsorship through our FinoComp business. With a year of unprecedented challenges affecting our industry we are pleased to be partnering with an event that calls out and recognizes, talent, hard work and innovation within the financial services wealth-management arena. Congratulations to all the winners and especially to FinoComp, who as part of the Bravura group who were also awarded "Best in Category" for their performance measurement solution."
For media enquiries, please contact:
Justine Pattullo
Marketing Manager, EMEA
T: +44 20 7997 3011 / +44 770 284 0477
E: [email protected]
More Insights