There are good reasons why advice is taking on new prominence among super funds according to Michelle Lusty, Head of Sonata Product at Bravura Solutions.
Superannuation funds have hit a tipping point as regulations and rising competition reshape their relationship with members.
The industry has shifted from focusing on the accumulation phase and a lump sum objective in retirement to becoming a holistic retirement eco-system aimed at generating lifetime income.
While retirement income has always been the implied goal, the Retirement Income Covenant is making it a reality.
The Covenant requires funds to document, review and implement a retirement income strategy by segmenting members by their retirement income needs. It has prompted many funds to collect more data about their members given the scope of this challenge.
Funding retirement requires maximising lifetime income while also managing risk and providing flexibility. These are competing goals that require members to prioritise and make trade-offs.
Underpinning that is the complex interaction between the three pillars of retirement – private savings (home ownership), the Age Pension and super – which makes the challenge even harder.
The limitations of retirement products
There's a reasonable argument that younger members are well-served by funds' growth oriented MySuper products. Unfortunately, there is no similar one-size-fits-most retirement income product given the much wider range of retirees' circumstances, account balance sizes, and personal goals.
The Covenant acknowledged this by shifting from its original focus on default MyPension products to a more holistic solution. (APRA recently wrote to trustees stating that the Covenant doesn't specifically require developing or offering retirement income products.[1])
Many innovative products launched by funds over the years have failed to attract enough members to make them viable, while products such as lifetime annuities or deferred lifetime annuities can be difficult for members to understand and have relatively low take up compared with account-based pensions.
While there's a place for new innovative products, a guided choice (rather than default retirement product) should lead to a better solution for retirees than the account-based pensions that most end up with.
While account-based pensions are flexible, there is a downside: almost half of retirees draw down the minimum annual income.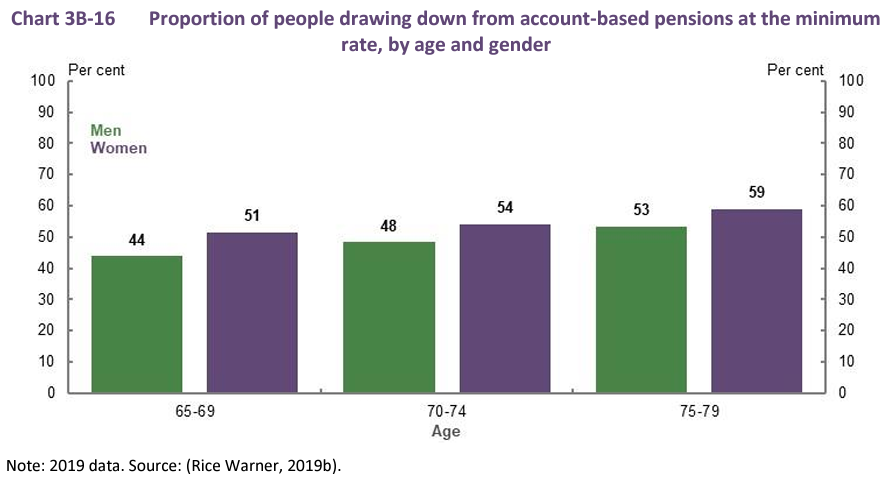 One reason is they are convinced they will run out of money leading to a worse retirement lifestyle. The irony is they endure a worse retirement lifestyle by underspending. Significant numbers of retirees also leave unintended bequests.
While retirees will always have individual responsibility for their choices, trustees can help guide them to better ones through the Covenant framework.
To help members make informed choices, a-number of funds are developing calculators and guided choice journeys to assist members in choosing the right mix between age pension, account-based pension and an innovate income stream product.
Advice: no longer missing in action?
What form this guided retirement choice takes is currently being debated within funds. Some will use the current status quo as a starting point: any help given to members is better than nothing. But the best funds are going much further.
A lack of quality financial advice has been one of the biggest roadblocks to a better retirement. A key reason is the impact of heavy regulation, which was intended to stop mis-selling but made advice unaffordable.
The median financial advice fee increased from $3256 to $3529 in 2021 and is now 41 per cent higher than it was in 2018, according to research by AdviserRatings[2]. Many retirees will never be able to afford such fees, but they need advice all the same.
Most super funds offer vast amounts of general advice and have a team of financial planners offering comprehensive personal advice. But bridging the advice gap between the two – which is where the bulk of members need help – has been difficult.
Funds remain under pressure to keep costs low, which makes it hard to re-invest, while some remain wary of the regulatory risks of offering financial advice.
However, those barriers are quickly breaking down. Many funds are quickly growing in scale as the pace of mergers accelerates, while members are demanding digital services on par with other areas of their lives.
The current regulations are expansive, but they are clear, with plenty of practical guidance from the regulator. Meanwhile, the Quality of Advice Review is set to streamline regulations further.
A broader definition of personal advice and removing regulation around general advice lowers the operational risk that funds face in this area. A focus on providing 'good advice' is a more effective way to serve the needs of members and will shift the focus from process to outcomes.
The need for a true digital approach
The Retirement Income Covenant and Quality of Advice Review are accelerating the digital journey that super funds are on. Digital advice is a key part of their strategies, supplementing personal advice and general advice that funds already offer.
The best funds are creating a digital eco-system that is deeply embedded into their business plans and operations. The strategy is endorsed from the top of the organisation to avoid falling into the trap of one-off digital projects that become bolt-on features and fixes.
When the digital strategy is right, it delivers better services at lower cost because it is more efficient.
For example, an advice operating system can be linked to the fund registry so it automatically updates the member's details. The advice system can also operate across the entire fund as a single common engine and be used by its comprehensive personal advisers, as well as powering its intrafund advice, member self-directed digital advice and general website financial calculators. This allows advice to be scaled across the fund while members benefit from the same consistent quality. It also creates efficiencies due to a high degree of reuse across the different advice channels while tailoring to the nature of the advice as required.
Digital advice: crucial for retirement
Even back in 2020, almost two-thirds (61 per cent) of funds surveyed by ASIC said they were planning to increase their use of member self-directed online tools that can generate Statements of Advice.
The pandemic only accelerated member demand for better digital experiences, while the Retirement Income Covenant and Quality of Advice review are now further paving the way for digital advice.
Funds need to approach the area strategically to deliver the best member outcomes:
Focus on the retirement thinking process. Many members will fit into cohorts and face similar challenges, just as many profit-to-member funds have historically served people from particular occupations. As the fund learns about the characteristics of these cohorts, common issues and questions will become clearer.

Can technology and digital advice help these cohorts through the retirement thinking process? By using digital advice technology, trustees can help guide members through "advice journeys" towards a better retirement. In terms of intra-fund advice, certain younger cohorts will typically need to be in more growth-oriented investment options while older cohorts will need to manage sequencing risk. These pathways can also lay the groundwork for offering more comprehensive digital advice beyond super.

Product evaluation. Funds should review their current product offerings and ensure that they help fulfill the financial advice. For example, members are unlikely to understand the benefits of new innovative products if they can't draw a line back to their needs.

Implementation. Members should also be able to use the fund's technology to easily implement digital advice. For example, opening an account should be a true digital experience – not just replicating a paper-based format online that requires members to print and post PDFs back to the fund. This is a crucial but often overlooked part of delivering a compelling digital experience.
Super funds play a central role in helping Australians save for retirement. They now have an opportunity to help Australians better spend their money in retirement – and digital advice is the key.
Bravura Solutions Limited is a leading provider of software solutions for the wealth management, life insurance, and funds administration industries. To find out more about Bravura's administration, advice, and straight-through processing solutions, visit bravurasolutions.com or email [email protected].
This article originally appeared in: https://www.fssuper.com.au/blogs/why-super-funds-are-blending-retirement-savings-products-with-advice
Sources:
[1] Implementation of the retirement income covenant | APRA. (2022, October 10). Retrieved from https://www.apra.gov.au/implementation-of-retirement-income-covenant
[2] The increase is over the three years to December 2021. The Changing Face of The Australian Adviser – And Their Clients: Adviser Ratings. (2022, October 04). Retrieved from https://www.adviserratings.com.au/news/the-changing-face-of-the-australian-adviser-and-their-clients
More Insights