While the rollout of the Retail Distribution Review (RDR) in South Africa is gradual, platforms will have to up their tech-enabled tools to ensure they can service the increasing needs of financial advisers.
This is the conclusion of a report produced by Bravura Solutions in collaboration with UK research specialist, NextWealth and management consultants, The Collaborative Exchange. The report aims to provide support to South African financial advisers and platforms by drawing on the experience of the UK financial advice industry during that country's equivalent RDR, which came into effect in January 2013.
Major shift
Since the RDR came into effect in the UK almost a decade ago, to stay competitive, platforms have undergone a major shift in the services they offer and the way financial advisers use them.
Carolyn Erasmus, Country Head (South Africa), Bravura Solutions comments: "From what we've learned from the UK RDR experience, the key to success for SA platforms is having the right technology architecture. By deploying dedicated microservices such as capital gains tax calculators, ESG reporting, and customisable annual review meeting reports, platforms in the UK have been able to help advisers meet new regulatory demands as they arise and improve efficiency in how client service is delivered. In SA, the RDR represents a clear opportunity for platforms to evolve to get the proposition right and to open the door to greater holistic planning services for their financial adviser clients."
Heather Hopkins, Managing Director of NextWealth comments: "UK platforms have been busy with several waves of regulatory change, with the RDR having a major impact. Platforms that continually innovate to support the changing needs of financial advisers thrive. These winners have invested in digital processing and tools to make the job of financial advice easier. This shift was accelerated during the pandemic and platforms that have been slow to respond have faced the greatest challenges."
Differentiation
Although they may run on the same underlying technology as their competitors, UK platforms are differentiating their propositions through adding specific tools and functionality to enhance and customise the adviser and client experience.
In 2021, Bravura Solutions commissioned NextWealth to carry out research among financial advisers in the UK, to show the specific platform tools that they valued most highly (figure 1). This research is featured in the new report.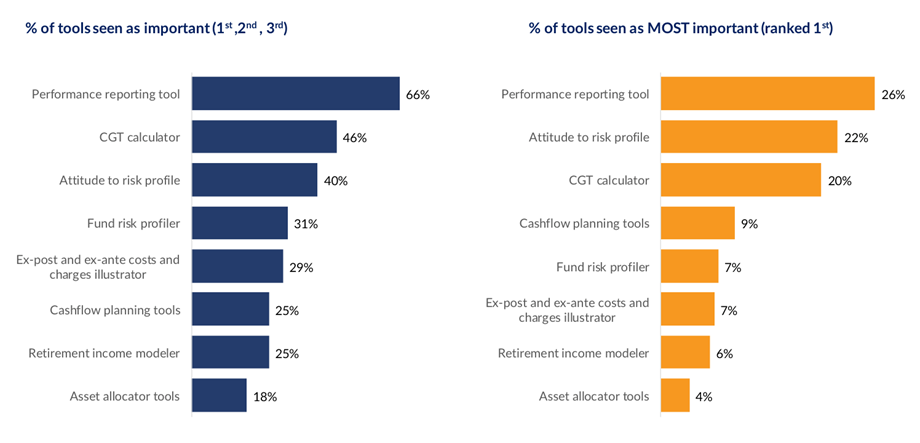 Figure 2 shows the importance of good tools to the decision to use a platform: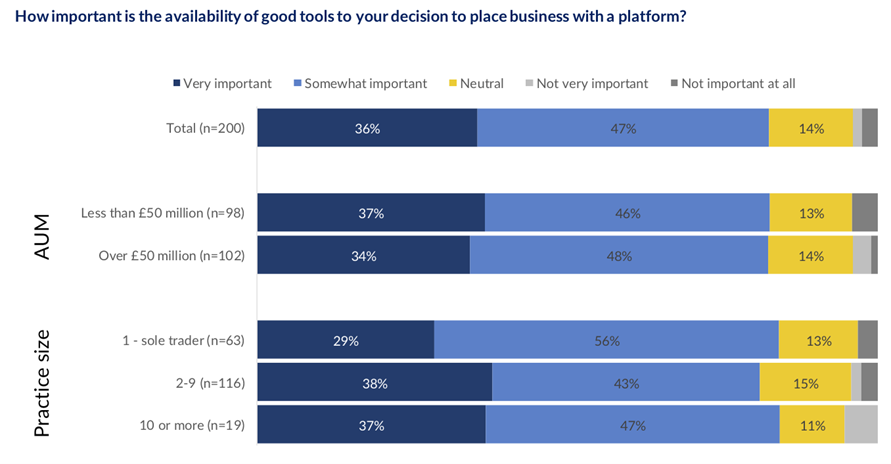 Integrations
Integrations with the adviser ecosystem and a tighter focus on margins and efficiency post-RDR are areas of business process that need to be up to scratch. UK financial advisers continue to flag their deep frustration when systems that are fundamental to their business do not work together.
In those cases, advisers need to re-key information across various software systems and that takes time and increases the risk of errors. They also often don't trust the data that is read from one system to another.
Back-office or practice management systems are seen as the focal point for integrations and platforms in the UK have had to build bridges into these systems that are often not modern enough to support APIs. Out of all the areas of advice technology, platforms tend to score highest among UK financial advice professionals for satisfaction compared with back-office systems and other tools. However, integration with other tech is still the biggest frustration.
The report, Platform evolution through the RDR and beyond: lessons from the UK experience is available to download here.
More Insights