Designing a digital journey to help members transition into retirement in real time.
Members transitioning into retirement are faced with several complex decisions, particularly for those who do not have a relationship with an adviser.
We set out to make the complex simple: an intuitive digital experience that is fully integrated into the administration platform and executed in real-time.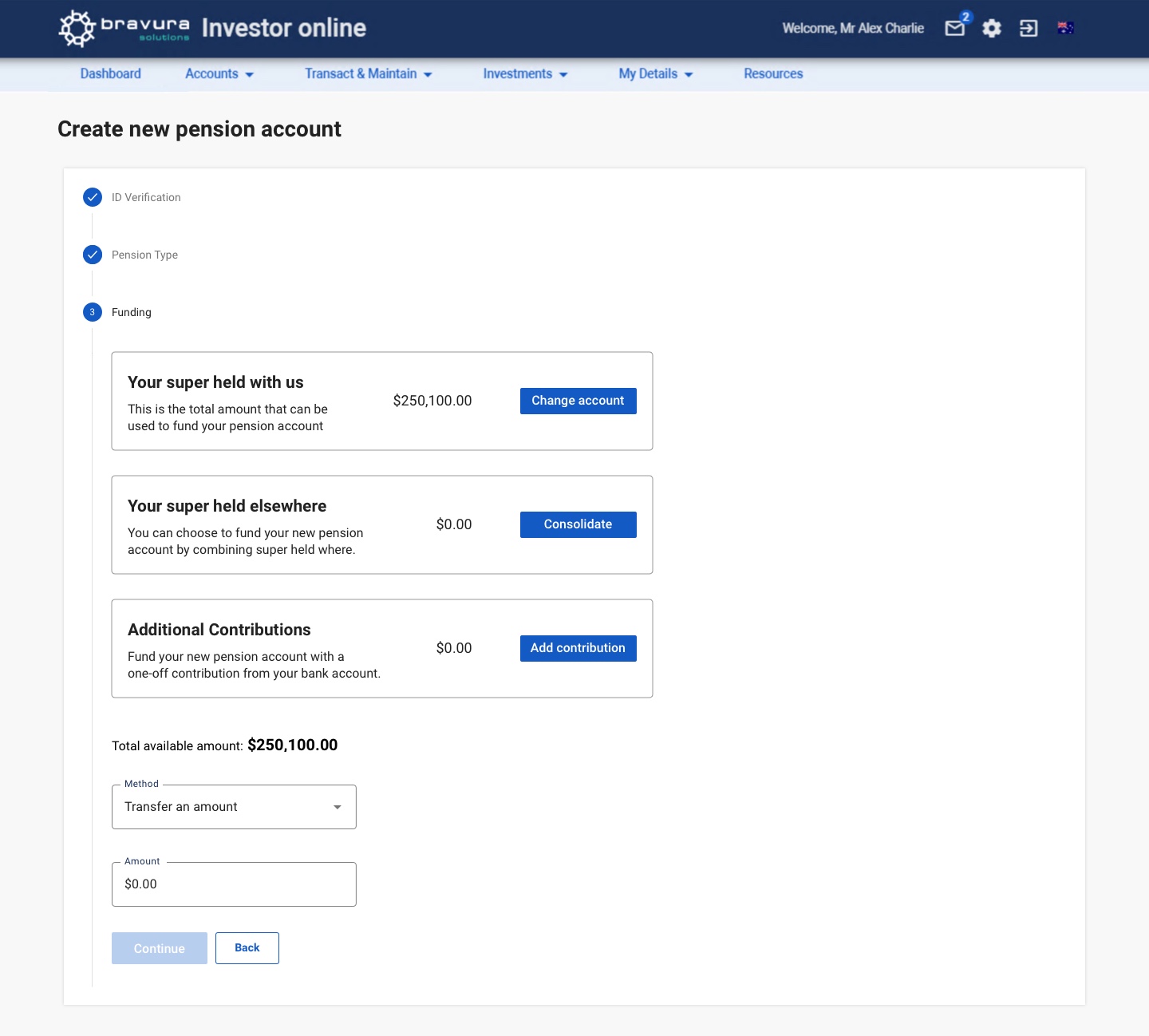 View the journey
The process
To solve the problem, we brought together a cross-functional team of user experience experts, business analysts, product specialist and engineers.
---
1. Research and Discovery
The team firstly defined the problem to be solved. This began with initial research: user context, known feature requirements, regulatory rules, and an understanding of the equivalent offerings in the market.

The market research also highlighted that when a self-directed member looks to open a pension account online more often than not the journey would result in a pre-filled application for the member to print and submit. This was identified as a key pain point and opportunity to create an experience that allowed a member to execute their application straight-through. All research presented to the cross-functional team in series of 'discovery' sessions. All members of the cross-functional team participated including designers, analysis and developers.
The ideation process then began. This was led by a dedicated UX designer and the product owner, working with SMEs and the rest of the team. Several ideas were generated, alternatives were sketched and ideas validated. As part of this process the team established a set of design principles, agreed the basic UI flows and sequencing. The UX designer also produced a series early state designs in the form of pencil sketches.
An initial set of wireframes in the form of low-fidelity prototypes. These were socialised with key members of the team and a wider set of stakeholders. Several 'show and tell' meetings took place, and the UI continued to evolve further into a series of detailed prototypes. In parallel, the supporting functional and technical designs were progressed.
As the iterative process continued, new requirements were discovered and absorbed into the design. Eventually, the design 'crystallised' to the point where we formally moved into a final phase of validation and testing. The team solicited feedback from a number of sources: business SMEs, and internal staff (gorilla testing). The design was iterated again and the supporting functional and technical solution was agreed. 'Day 2' items were identified and moved to the product backlog.
The product owner broke down the solution into a series of user stories that defined the features and acceptance criteria. Finalised stories were passed into the development backlog as soon as they became ready. All user stories were supported by various UX/UI design artifacts such as high fidelity prototypes and user flows.