What happened when we tried to revolutionize our workplace culture?
COVID brought a world of change in a short time, challenging us to think differently about how we keep up with the changing expectations of our people. Our pilots and surveys told us that transactional work and productivity were tracking positively, but there were gaps emerging around sense of belonging and space for ideas to thrive. We needed to enable healthy teams that feel connected from anywhere, while balancing the need for a collaborative workspace.
To achieve this, we needed to adopt future-fit mindsets and behaviours that ensure our hybrid work model delivers success.
Here are some of the things we learned when we partnered with Nick and Emma from Anywhere Culture to reimagine our culture through our Anywhere Culture pilot in NZ.
Co-design is key as a way of ensuring the employee voice is heard and applied
Feedback is a gift and provides channels for contribution, so we can get things right
Rituals matter. In a change-fatigued world, moments of familiarity and celebration are important
The nature of collaboration is changing. We've seen firsthand how tools such as MIRO can support teams to have productive and inclusive meetings, brainstorm, make rapid decisions, and have greater visibility over shared work
People need space to experiment, be curious and generate ideas to make things better
To lead the change, you need to be the change. The role of leaders in role-modelling mindset change can't be understated.
What do we mean by 'Anywhere Culture?'
Our goal is to create an employee experience that is amplified by, but not defined by a physical office space. Throughout our surveys, Ways of Working pilot and the discovery phase of our Anywhere Culture project, the value and purpose of our shared workplace was clear. There was agreement that for us, certain activities can't be replicated in a remote setting, such as nurturing cross-team relationships, learning through interaction, new joiner networking and complex problem solving. We also recognised the many, many ways remote work makes life easier – flexibility to balance the moments that matter in our personal lives, broadening our talent pool, increased focus time and connecting with our globally dispersed teams across various time zones.
We want to build a hybrid model that works; ensuring that our offices remain the primary space for collaboration, creativity and social connection. All the while, providing the flexibility for our people to thrive and ensuring that the shared standards, mindsets and behaviours that make up our culture can be experienced from Anywhere – with employees who feel supported and connected regardless of where they're working.
Co-Designing our Anywhere Culture Mindsets.
We've learned the value of starting and ending with the employee – gathering feedback at every possible touchpoint to ensure outputs are reflective of what our people told us they want.
We conducted interviews with a diversely representative sample of employees and took the themes gathered into a co-design session. Here, our teams presented a clear vision of the future state they want to be a part of, and the mindset change needed to get us there.
Our post co-design retrospective reiterated that co-design is key for people initiatives, with employees sharing what they learned from the experience, including that their ideas can influence change and that they are aligned on what good looks like.
"Our ideas have value and can lead to change."
Multiple iterations later, our co-designed Anywhere Culture mindsets were born.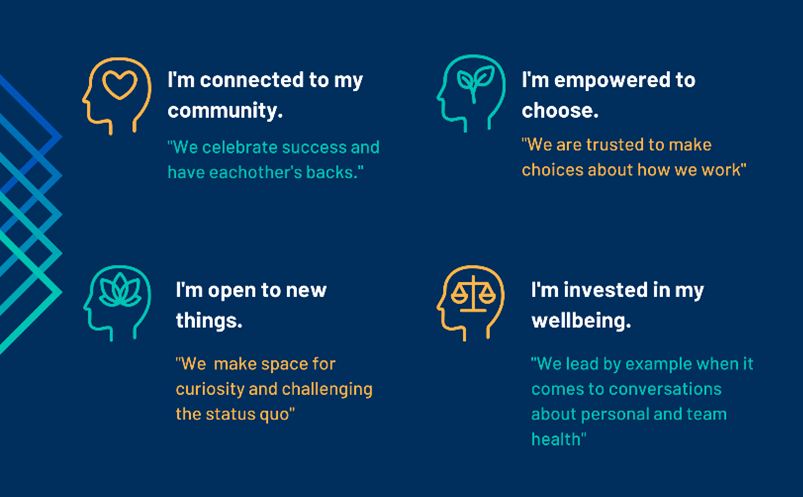 Embracing new opportunities at the B:HIVE
The beginning of our culture transformation journey coincided with a physical office move to the B:HIVE in Auckland, a state of the art shared workspace built around collaborative work and flexibility.
This move challenged our teams to adopt growth mindsets, moving away from the same desk and coffee shop they'd used for years – to hotdesking in a shared space. Through our conversations around empowerment, we watched employees start to think differently about the opportunities brought by hotdesking – including the ability to choose a focus or collaborative zone dependent on the type of work, and to form new connections with colleagues they don't usually work alongside.
With on-site yoga, weekly socials and networking events, the B:HIVE embodies our mindsets and provides endless opportunities to connect to community, prioritise wellbeing and experiment with new ways of working.
But it was also crucial that we maintained the 'moments that matter' to make the B:HIVE feel like home, and no culture revolution was going to get in the way of Biscuit Wednesdays.
Applying our mindsets day to day.
Our next challenge was taking these mindsets from words on a page to a tangible experience. Through a series of enablement workshops, we've started to introduce tools to help our teams embed the behaviours required for an Anywhere Culture.
Our enablement journey has seen our teams explore Change Leadership, play with hybrid-friendly collaborative tools such as MIRO, set team norms, embrace new methods of appreciation and try on concepts such as the Emotional Culture Deck and Above the Line, Below the Line thinking (as explained by Jeff Muir).
Most recently, in a session built around our Community mindset we challenged our recently joined Graduates to pitch a plan for a Community day, resulting in a planned beach volleyball event for the whole Auckland team.
We've been taking these concepts into other parts of the business, and recently piloted Fix It Friday in line with our I'm open to new things mindset. By dedicating time to experimentation and exploring the Design Thinking methodology, we've ideated, prototyped and are now delivering a new approach to onboarding as a result.
We continue to build the toolkit to make our mindsets a reality, but culture transformation doesn't happen overnight, and we recognise we are still early in our Anywhere Culture journey.
What Next?
We now look towards how we scale our Anywhere Culture across our global business. Reflecting on one of our key lessons – to lead the change you need to be the change; we've decided to evolve our traditional Management Development Program. Anywhere Leadershipisan experience-design led program built around our Anywhere Culture mindsets and solving our current business challenges in a hybrid world.
Jumping at the opportunity to deliver another program with Nick & Emma, we are now midway through our pilot and enjoying watching how our mindsets translate to the real world through the lens of our participants.
Reflecting on words we heard during co-design, we will continue to look for ways to support people to do their best work, whatever that may look like.
"To do our best work, we need to be our best selves."
It's been a year of discovery, immersive learning and endless experimentation. We're excited to see where it takes us next.
More Insights