Rakesh Pilli – Solution Architect – Pre-Sales
Born and educated in India, I was recruited into IBM straight from university in 2006. I worked for IBM for eight years in IT, first in India for three years and then the opportunity arose to relocate to the UK, where I worked with two of their major financial services clients – Aviva and Standard Life (in Pensions, ISAs and the wealth management wrap programme) – before leaving IBM to join Bravura in 2014 as a Business Consultant.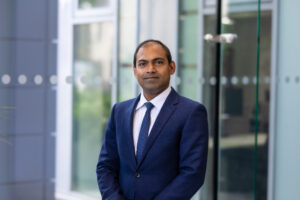 Between 2014 and 2021, I worked from Business Consultant to Senior and Principal Consultant, working on implementation programmes. The roles typically involved working with multiple clients, helping them implement Bravura products – the flagship being Sonata. I gained expertise in Sonata, helping clients to best use the system for their needs, whether it be from a regulation, automation, and/or proposition perspective. In particular, the consulting team are trusted advisers to our clients, helping them get the most from our broad range of solutions.
Then in 2021, an opportunity opened up within Bravura to switch to the sales department, in a new Pre-Sales team. This team has brought in experts on the technical and implementation sides of the business, to use our experience in identifying clients' business needs and requirements and then to find a solution that meets those requirements, which the product teams can then build. It's a massive benefit for Bravura and our clients to have people with product knowledge as part of the sales team, because every company has a different set of challenges, and we are fully focused on finding the right solution for the client.
It's a faster working environment than within the consulting team, but this career change and the opportunity to switch from consulting to sales, is one of the benefits of working for a company like Bravura. Right now, we are talking to a lot of prospective clients, which reflects the exciting phase that Bravura is in. There has been a lot of change in the financial services industry brought about by the pandemic, including large scale digitalisation, automation, and machine learning, among others. The Pensions Dashboards Programme is another example, which companies are reacting to, and Bravura is at the forefront of, delivering solutions to meet their needs.
South Asian Heritage Month
Alongside my day job, I am part of the Race, Ethnicity, and Diversity (bRED) pillar within the company's Diversity and Inclusion (D&I) initiative. Having moved to the UK from India, I know first-hand what it feels like to not belong. Integrating into UK culture, making the UK my home and being part of society was a big learning experience, but it is possible in a country like the UK.
I volunteered to be part of the bRED pillar because its objectives resonated with me. The pillar lead, Steve Fanus, gave us the opportunity to bring in ideas to which we feel connected and which we believe the rest of the company could benefit from.
I took the opportunity to raise awareness about the South Asian Heritage Month, which first took place in 2020 and runs from 18th July to 17th August each year. This seeks to commemorate, mark and celebrate South Asian cultures, histories and communities, and also to understand the diverse heritage and cultures that continue to link the UK with South Asia.
These dates were carefully chosen to commemorate specific events. The 18th of July is the date of the Indian Independence Act 1947. The 14th of August is Pakistan's Independence Day. The 15th of August is India's Independence Day. The 17th of August is the date that the Radcliffe Line was published in 1947, which finally set out where the border between India, West Pakistan and East Pakistan (now Bangladesh) would be.
South Asian Heritage Month is relatively new and it was brought to my attention in material from Inclusive Employers, of which Bravura is a member. With my Indian heritage this resonated with me, in the way it celebrates how South Asian culture, from Afghanistan, Bangladesh, Bhutan, India, Nepal, Pakistan, Maldives, and Sri Lanka, has integrated into the UK.
I wanted to bring it to the attention of the company and to those within the company from similar backgrounds to me, from these eight countries, who may not know about it. To also be celebrated is how different people from different cultures benefit Bravura as a company; they bring different opinions and viewpoints and they have an impact.
Bravura's D&I initiative is one way I think the company stands out in the market. It's easy to pay lip service to these kinds of things, but every pillar under the Bravura initiative has an executive of the company as a sponsor. And they are not just a face, the executive has to specify why they want to be involved with that particular pillar, making them accountable and fully committed to the idea. You can see a clear effect within the company. It enables people to bring their whole selves to work. They can be authentic because they know whatever their background, they have representation within the company. It gives people confidence to speak up and take advantage of the opportunities that are open to them.
It makes for a far better working culture, not least because it enables people to bring that confidence and use it in the work they do and in delivering better outcomes. I hope we can use these pillars to make the whole of Bravura an inclusive place for whoever comes to work here. I would urge anyone within Bravura who feels an affinity with any of the pillars to volunteer to help. The more people we have involved the more we can do.
Find out more about South Asian Heritage month here: https://www.southasianheritage.org.uk
More Insights